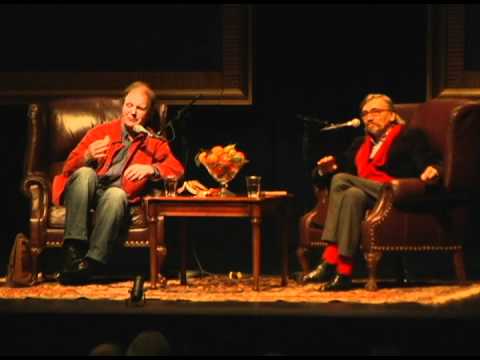 As a special New Year's treat, enjoy this 48-minute video of War Horse author Michael Morpurgo and War Horse musical maestro John Tams on stage, taped in Toronto earlier this month. They tell stories of the origin and concept of War Horse, they sing the great War Horse hymn "Only Remembered", and they sink into their comfortable chairs like two old friends at the fireside. All that's needed is a chorus of Auld Lang Syne, but you can sing that one yourselves.
If you want to understand and appreciate War Horse, you'll have to look beyond the way Joey twitches his ears, beyond the blue of Tom Hiddleston's eyes and even beyond the landscape of No Man's Land. Somewhere, over the horizon, is the fertile mind and tender heart of the man who conceived of War Horse.
Michael Morpurgo is a writer whose vision and passion has not been lost in the crazy celebrity of his creation. Thanks to sensitive and artistic producers of both the play and the movie interpretations of War Horse, the story has only been intensified, albeit in two very different ways.
Both productions are very quick to give credit to Morpurgo and pay homage to his brilliant and seemingly-simple story.
If you haven't read the original book version of War Horse, please do. You can read it in a few hours, and the story has enough different characters and situations from the play or film that you'll be intrigued.
This video begins with Michael Morpurgo reading the foreword to his book, War Horse.
It's all here: horses, history, art, children's books, Spielberg, Handspring Puppets, American hymns turned anti-war songs–and it's all for you.
It will introduce you to the author better than any video I can post here, but this YouTube video is a must-see for anyone who wants to understand or share the "Big Picture" of War Horse. I hope it will play on forever, and that the "Big Picture" will get even bigger.
This video is provided by the Mirvish Theater group in Toronto, which is staging the War Horse play, opening in February 2012.