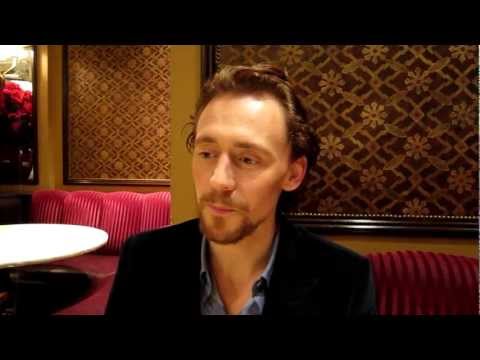 One of the most memorable characters in the book, the play and the film known as War Horse is Captain Nicholls. I won't tell you whether he ends up being a good guy or a bad guy or if he lives or dies. He does, as most people know, buy Joey from Albert's father and lead him off to the cavalry life.
What happens after that must be learned in a dark theater with a tub of popcorn on your lap, preferably on Christmas night.
In the film, Captain Nicholls is played by Tom Hiddleston, who can be seen in several Hollywood films right now. He plays American author F. Scott Fitzgerald in Woody Allen's Midnight in Paris; he also starred in Thor and The Avengers.
When the questions turned to horses, he chose the light-hearted route, and shared some nice insights into sharing the screen with Joey.
In this interview, the articulate Mr. Hiddleston talks again about working with horses, about the themes of the film and about working with Steven Spielberg.
—–
Be brave! Entrench yourself in War Horse News on the web: 1) Bookmark WarHorseBlog.com; 2) Grab the RSS feed; 3) Follow @WarHorseNews on Twitter; 4) "Like" the War Horse News page on Facebook; 5) Circle War Horse News on Google +. Leave your questions and comments here on the blog and we'll try to help you!