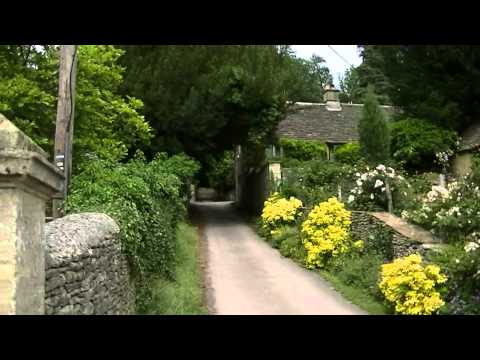 Welcome to Castle Combe; here's a brief video survey of the village shot earlier this year after the War Horse crew was long gone. But you can bet that this pretty and ancient village will be on the tourist map now that War Horse is out!
Filming of War Horse bounced around the southwest of England from Devon to Surrey and back again. Most of the countryside shown so beautifully in the film is in Devon, in an area called Dartmoor. But a really special place was at the heart of the film: the village. You probably know from watching the trailers, even if you haven't seen the film yet, that Albert's father buys a horse at the village auction. This is a critical seen in the film and it is beautifully staged and acted.
We see the village again when the British military comes to town and takes Joey away.
Edward Lawrence is a local teen on his way to being the next Spielberg. For War Horse to be shot near his home was an answer to the budding filmmaker's dreams–and he was able to meet Steven Spielberg on the set! Ed has kindly edited his still shots into a video montage of the classic hurry-up-and-wait scenario of film sets. But you do feel like you're there!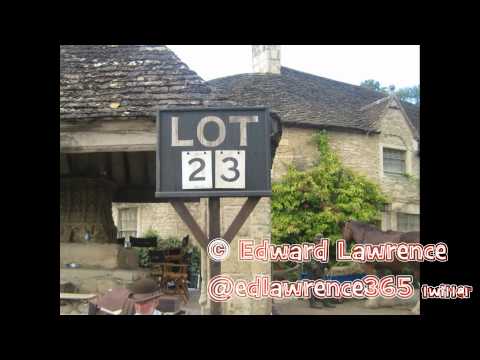 Remember that idyllic village you saw in the last video? Here it is transformed into a movie set, and filled with hundreds of crew, cast, extras, and (yes!) horses. Aspiring filmmaker–and A level student–Edward Lawrence shared these stills of the action.
Steven Spielberg's location scouts didn't have to do much to the village, but they did anyway. The scenes were filmed in Castle Combe in the county of Wiltshire, neat the ancient city of Bath. Do you remember reading Chaucer's Canterbury Tales in school and his character The Wife of Bath on her horse? Castle Combe was a thriving metropolis all the way back to Roman times.
Castle Combe has been called "the prettiest village in England" and when people sigh about the loveliness of the region of England known as the Cotswolds, they have a vision of Castle Combe in mind. This area is also not far from the homes of the Badminton and Gatcombe horse trials, if you're an eventing afficionado.
And if your taste runs to the occult, Castle Combe is a stone's throw, so to speak, from the mysterious landscape of prehistoric Stonehenge.
And if you want to live the War Horse life–Hollywood style, that is–be sure to plan to stay at the Manor House Hotel in Castle Combe. They're even having a War Horse special! Vacation like it's 1914…
To learn more:
Be sure to follow the links in the story and also read the article "Spielberg rides 'War Horse' to hellish World War I"; it was published in USA Today in the fall. In it, you'll learn that Steven Spielberg collects Norman Rockwell's art.
Follow Ed Lawrence–this student filmmaker is going places–on Twitter: @edlawrence365; his YouTube channel is Ed Lawrence Productions.
—–
Be brave! Entrench yourself in WAR HORSE NEWS on the web: 1) Bookmark WarHorseBlog.com; 2) Grab the RSS feed; 3) Follow @WarHorseNews on Twitter; 4) "Like" the War Horse News page on Facebook; 5) Circle War Horse News on Google +. Leave your questions and comments here on the blog and we'll try to help you! WAR HORSE NEWS is written for moviegoers, horse lovers and history buffs by horse-specialist journalist Fran Jurga and hosted by Equisearch.com.