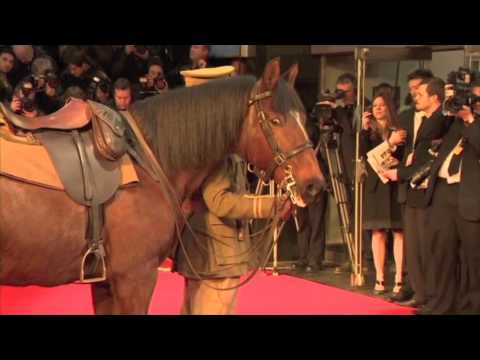 It took 14 different horses to play the part of Joey in War Horse. Producer and director Steven Spielberg made sure that at least one of them was front and center at the London premiere of the film on 8 January 2012. In this brief video, you see Spielberg, along with lead actor Jeremy Irvine (Albert) enjoy a brief reunion with Sultan, the "Joey" who galloped through the trenches in the film.
The reunion of the two stars and their director took place on the red carpet outside the Odeon Theatre in London's Leicester Square–the same red carpet where all the stars could be found. But Joey got there first–and attracted the biggest crowd! The crowd respectively stayed quiet for Joey, but the paparazzi shouts broke out when Jeremy Irvine stepped onto the carpet, as you can hear on the clip.
Among Joey's admirers on the red carpet: the Duke and Duchess of Cambridge, known to Americans as Prince William and Kate.
The Duke and Duchess greeted members of the cast and Spielberg before watching the film. Six hundred serving and ex-serving military personnel and their families were invited to the Premiere. The proceeds of the evening will benefit British military charities, which the Foundation of Prince William and Prince Harry helps to support. The servicemen and women were invited from The Duke of Cambridge's regiments, including RAF Search and Rescue, Household Cavalry, Irish Guards, Royal Air Force Coningsby, Scotland Royal Naval Command and Submarines Royal Naval Command.
Sultan was escorted by Tom Cox of Devils Horsemen stunt riders. Dan Naprous of Devils Horsemen, the assistant horse master of the film, was in charge of Sultan's trip to London, and kindly gave War Horse News a brief interview after the event.
The first thing I asked him was if he'd need a shovel on the red carpet, and he assure me that his horse was very well-trained–and that he'd been very lucky that the evening was uneventful.
"It was a lot of pressure with all the cameras," Dan admitted. Tom Cox had led Joey on the carpet with Dan following behind and ready to jump into action (something he does very well, professionally) if there were any mishaps.
Dan said that "backstage" in London, Sultan had enjoyed another reunion, with equine makeup artist Ali Bannister from the War Horse crew. (See yesterday's post for more about Ali.)
Did you notice that only was Tom, the handler, dressed in an authentic World War I uniform, but Joey was wearing period military tack, including a horseshoe pouch (packed with two spare horseshoes an 12 nails), buckled onto the saddle.
"The whole thing was extremely well planned out," Daniels told me about the evening's schedule. "And it went without a hitch."
Still, I could tell that he was relieved to be able to report that news to me.
Sultan is an Andalusian, a breed that Daniel uses a lot for special training for films. His family offers about 60 trained stunt and seasoned carriage horses for period films, commercials, public appearances, television–and every other sort of public event. Sultan is planning another reunion, with War Horse actor Tom Huddleston (Captain Nicholls), in the upcoming film Henry V; this special horse then plans to co-star with Russell Crowe in the film version of Les Miserables.
Is there a union for movie star horses? Sultan has earned his card!
A report about the people at the premiere will be posted on Monday–but the horses had to come first!
—-
Be brave! Entrench yourself in WAR HORSE NEWS on the web: 1) Bookmark WarHorseBlog.com; 2) Grab the RSS feed; 3) Follow @WarHorseNews on Twitter; 4) "Like" the War Horse News page on Facebook; 5) Circle War Horse News on Google +. Leave your questions and comments here on the blog and we'll try to help you! WAR HORSE NEWS is written for moviegoers, horse lovers and history buffs by horse-specialist journalist Fran Jurga and hosted by Equisearch.com.