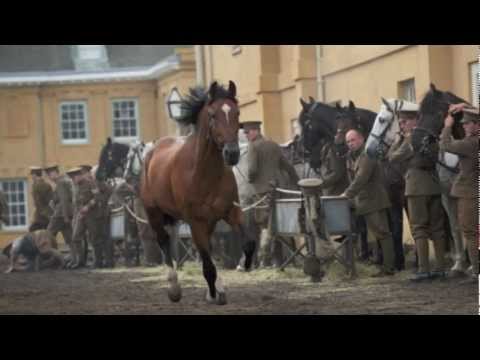 Napoleon once said that an army moves on its stomach. But the cavalry moves on its hooves, and it took an army of farriers–called "shoeing smiths" by the British military–to keep the horses moving in World War I.
But what about a film crew? And what about the production of Steven Spielberg's film War Horse in England in 2010?
DreamWorks Pictures learned the importance of a farrier too, especially when Roger, a plow-horse lookalike for Joey, kept stepping on (and thereby pulling off) his shoes in the furrow.
"Cut!" "Get the farrier up here!" "Where's the farrier?"
And not only did the farrier have to keep putting shoes back on in the midst of many shoots that were mired in mud: director Spielberg put location farrier Brendan Murray to work in the forge in the shoeing scene. They turned the camera on him and his apprentice for the crucial background action in the scene where Joey meets Topthorn while the two are waiting to be shod.
You'll hear all about it in this interview with Great Britain's international eventing team farrier Brendan Murray, a seasoned veteran of both shoeing and riding for film productions!
Brendan was interviewed by Lexington, Kentucky's freelance equestrian media pro Samantha L. Clark of eventingnation.com and many other audio, video and web projects for the horse world. This is Samantha's first "guest blog" under the banner War Horse News and it's appropriate that it arrived as a media file, instead of a text document or an image file
About Brendan Murray
Brendan has been associated as eventing team farrier with the British Equestrian Federation and Team GBR for many years. He has served at five Olympic Games, three World Equestrian Games, and many European championships. He was flag bearer for Great Britain and led his country into the arena in the opening ceremonies of the 2010 WEG in Kentucky, as chosen by the athletes.
Brendan is retired as a farrier in the British military's esteemed King's Troop Royal Horse Artillery; among his duties was serving as brakeman for the gun carriage loaded with the casket of Princess Diana at her funeral in 1997. Among Brendan's film on-screen credits are Gladiator, Robin Hood and 2012′s Snow White and the Huntsman.
You might enjoy a video interview by Samantha Clark with Brendan at the 2010 Alltech FEI World Equestrian Games in Kentucky.
About Samantha Clark: Who is she? Then: eventer, NPR news anchor, and (most recently) co-host of the 2010 Radio Show about the 2010 Alltech FEI World Equestrian Games. Now: armed with social media, camera, video and a smart phone, she knows no bounds.
Samantha says of herself: "I'm thrilled to have my blog on EventingNation.com as an excuse to pursue an incurable curiosity about anything to do with horses (especially eventing), satisfy my wanderlust and aid in my determination to cling to my English roots. I'm often accompanied by two small children–sometimes helpful, sometimes a hindrance–and almost always by a beautiful, black Labrador who is perfect company!"
Samantha's blog is a must-read on the web and she is equally a must-follow on Twitter: @samanthalclark for great horse tweets from Kentucky and the eventing world.
—–
Be brave! Entrench yourself in WAR HORSE NEWS on the web: 1) Bookmark WarHorseBlog.com; 2) Grab the RSS feed; 3) Follow @WarHorseNews on Twitter; 4) "Like" the War Horse News page on Facebook; 5) Circle War Horse News on Google +. Leave your questions and comments here on the blog and we'll try to help you! WAR HORSE NEWS is written for moviegoers, horse lovers and history buffs by horse-specialist journalist Fran Jurga and hosted by Equisearch.com.